---
Nothing says Easter like a couple of cute, fluffy Easter bunnies. Am I right? Since I've recently become addicted to all things pom pom, I decided to use my obsession to my advantage and make an Easter themed craft. What could be better than to make some sweet Easter bunnies made with the fluffy balls of yarn? These Pom Pom Easter Bunnies are so cute and the perfect addition to home decor, Easter baskets and more this spring! This post contains some affiliate links. Click here to read my full disclosure policy.
Materials needed to make Pom Pom Easter Bunnies:
Felt in pink, gray and brown
Worsted weight yarn in white, gray and brown
Scissors
Wire cutter
Hot glue gun and glue sticks
You can make the pom poms the old school way with cardboard and scissors if you like, but I prefer using the pom pom makers. They've been the best investment since they make perfectly sized, uniform pom poms.
Start out by making two pom poms. Use the two large sized pom pom makers. Follow the directions included in the package or check out this post for more in depth directions.
Use the hot glue gun to glue the two pom poms together.
Use scissors to cute out the ears from felt. Use two smaller pink pieces for the inside of the ears and hot glue them to the outer felt piece.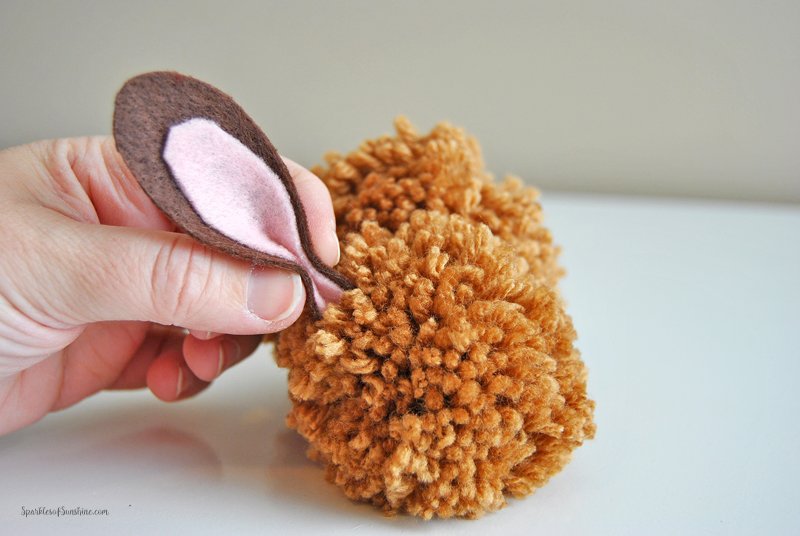 Pinch the bottom of the ear together and secure with glue to the bunny's head (the smaller of the two poms poms). Repeat on the other side of the head for the other ear.
Next, hot glue the black pony beads to the face for eyes.
Let's make some whiskers. Divide a white pipe cleaner into thirds and use the wire cutter to cut two pieces slightly shorter than the other. Slip them through a pink pony bead….instant nose and whiskers! Hot glue the bead to the bunny's face.
Every Easter bunny needs a fluffy tail! Use the larger of the two small sized pom pom makers to make a white pom pom and glue to the bunny's end for his tail. How cute is that???
Now you have a perfect Pom Pom Easter bunny to add some festive vibe to your home decor this Spring. These Easter bunnies make cute gifts for Easter, too. Stick it in Easter baskets or in a small bag with a couple of Cadbury Eggs to brighten someone's day. I already have the bunnies, but I'll take a Cadbury egg or two if you have extra. 🙂
Other posts you may enjoy: