---
Whether you're thinking about starting a blog or looking to grow your current blog, you've come to the right place! I have learned so much about blogging since the start of Sparkles of Sunshine, and I am always happy to share my information with others. In fact, I read many posts similar to this one before starting my own blog. Now it's time for me to pay it forward and share with you the tools that have helped me grow and manage my blog. I hope you find these resources useful. You can click on the images for more information, but feel free to contact me if you have any questions about them. This post contains some affiliate links. Click here to read my full disclosure policy.

Recommended Hosting
If you are looking for a company to host your blog, I highly recommend Bluehost for your web hosting needs. I have been completely satisfied with their service and my website speed. Bluehost offers hosting for only $3.95 per month when you sign up for 36 months. They also offer a money-back guarantee, so you are still free to cancel at any time and can receive a prorated refund for any unused months.
Recommended Books
Thinking of starting a blog? Then Abby Lawson's eBook, Building a Framework: The Ultimate Blogging Handbook, is a must read for you! From the technicalities of starting a blog and choosing a blog name to social media tactics, Abby covers it all in this book. Even if you've already started your blog, this book will help you with information on plugins, social media strategies and more. I love the way she sums up the "take aways" at the end of each chapter!
Ready to monetize your blog? If so, Ruth Soukop's How To Blog For Profit: Without Selling Your Soul
has got your covered! Ruth will teach you how to profit through advertising networks and affiliate sales, and even offers tips on selling your own products. Each chapter ends with an action plan for you to put these tactics to use. Think of it as your personal to-do list!
Want to increase traffic to your blog? Lena Gott from What Mommy Does shares how she increased traffic to her blog in her eBook, How I Went From 17K to 350K+ Monthly Page Views in 9 Months. In this eBook she shares the 17 strategies she used to grow her blog, plus tips on what she learned through the process. She's already gone through the trial and error for you, so learn from her experience!
If you've been struggling to monetize your blog with affiliates, then Tasha Agruso from Designer Trapped in a Lawyer's Body is your gal! This eBook, Affiliate Marketing for Bloggers, is packed with information, recommendations and strategies to start making money with affiliates the right way. Learn about disclosures, the best affiliate programs, how to promote on social media and more. Oh, did I mention there are instructional videos AND a private Facebook group as part of the advanced package? I learned SO much from this eBook. It could be the game changer you need!
Do you understand Google Analytics? Do you know how to use this powerful tool to increase pageviews? I thought I did before reading Skyrocket Blog Pageviews Using Google Analytics, but boy was I wrong! Kelli Miller and Crystal VanTassel-Lopez, the ladies behind the popular Learn To Blog Hangouts, are your GA experts that will share strategies you can use to grow your blog. Learn the secret methods and assignments included in this information packed eBook to increase your pageviews, decrease your bounce rate and keep readers coming back for more!
Recommended Courses
Elite Blog Academy is the course for those ready to take their blog to the next level! I have seen a tremendous growth in my blog since starting E.B.A., even before finishing the course! Ruth provides so much information for bloggers both new and old. With the community forum, webinars and videos included in this course, I guarantee it is worth every single penny. Learn how to perfect your blog content and images, develop and use a social media strategy, profit through advertising and so much more in this powerful course! Best of all, there's a money-back guarantee, so what do you have to lose?

Recommended Social Media Managers
Connecting with your audience on social media is so important when it comes to blogging. Most bloggers spend just as much time promoting their posts on social media as they do actually writing them! Since my time is valuable and it's hard to do everything at once, I've searched and found a few tools to help me manage my social media interaction.
BoardBooster has changed my blogging life forever! Thanks to this amazing tool, I have so much more time on my hands! We all know Pinterest likes for you to pin at various times of times, but who has the time to do that when writing posts and promoting them on other social media channels, too? Before I discovered BoardBooster, I spent hours each week finding pins to place on secret boards, then going back at different times each day to pin them onto my visible boards. But now, I let BoardBooster do the work for me. I can schedule boards to continually loop and repin my old content, or BoardBooster will pin new pins for me from my secret boards. It's easy to customize what you want. You can even create campaigns and schedule pins for different group boardss. At only $5 month for 500 pins, it is perhaps my best monthly investment! I have gained so many new followers thanks to BoardBooster, and you can, too! You can even start out with a free trial and schedule 100 pins for free. You can't beat that!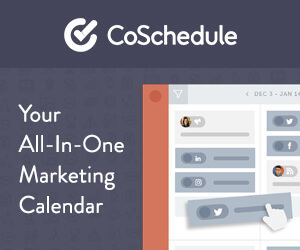 Coschedule has been another lifesaver for me. It is the only social media editorial calendar for WordPress that allows you to schedule your blog and social media on the same drag-and-drop calendar. It has saved me so much time with scheduling my posts for social media shares. I love it so much that I didn't even wait for my 2 week trial to end before I signed up for the monthly service! What I love most about Coschedule is the social queue feature. It allows you to schedule your shares to social media channels like Facebook and Twitter when you schedule you post…all in WordPress! You can schedule your social media shares for the day it posts, a week after is posts,a month after it posts, or any custom date! Best of all, if you change the date your post will be published, all the social media shares move along with it. Just use the drag and drop feature on the calendar and it's all done for you. Isn't that awesome? Coschedule has helped me be more consistent in my social media scheduling, and I'm definitely seeing the benefits. Start out with your 2 week free trial and I bet you'll love it, too!
Recommended Blog Planners
The Blog Planner from Corey at Hey There, Home is the perfect planner to keep everything related to blogging organized. This daily planner is complete with an editorial calendar and sheets for tracking yearly/monthly goals, blog stats, social media scheduling, and more. The real bonus is the 30+ page e-Guide with tips on how to use the planner, as well as the best practices for scheduling social media, choosing passwords and keeping your blog updated. It's a must for the serious, organized blogger!
Ruth Sokup's free blog planner is another thrifty option that will keep you on track with yearly and monthly goals, post planning pages, monthly calendars, as well as monthly brainstorming, expense and stat tracking pages. I can't believe she gives this one away!
Recommended WordPress Plugins
Akismet will protect your blog from spam comments.
Jetpack adds powerful features previously only available to WordPress.com users including customization, traffic, mobile, content, and performance tools. I use so many Jetpack features, from contact forms to sharing buttons. I love it!
WordPress SEO is the best plugin out there to manage your SEO content. This plugin forces you to choose a focus keyword when writing posts, and then makes sure you use that focus keyword everywhere it's needed. Easily edit your meta description and titles with these easy to use plugin.
Comment Reply Notification makes sure you comments get seen. When you reply to a comment left on the blog, an e-mail is sent to the user to let them know.
Ultimate Nofollow adds a checkbox in the insert link popup box for including rel="nofollow" in links as you create them.
I hope you've found this list of resources useful. I will be updating this page from time to time as I discover new tools that help me with my blogging tasks. Is there a tool that you feel belongs on my list? If so, please let me know! I'll give them a try and add them if they work for me. Be sure to check back periodically to see what new blogging resources I add to this list!