Welcome to Totally Terrific Tuesday Link Party! I'd like to start out by thanking all of you who have been linking up here at Totally Terrific Tuesday, and welcoming all the newcomers! We were so close to 300 link ups last week and with your help we can get there this week! You have no idea how much support we feel from you all, and I am so happy to have you here with me, not to mention my two amazing co-hosts! Jess and Sharon are the best, and I'm so lucky to be hosting this party with them. Be sure to check out what they've been up to this week and show them some love!
In the next few weeks there are going to be a few more changes coming up for Totally Terrific Tuesday. We are going to be creating a Pinterest group board that you will be able to join and pin your goodies to it when you link up here. We will still be keeping the featured board to pin to as well for extra attention to the features. We will be pulling pins from both boards to pin throughout the week. We are also going to be doing extra social media attention throughout the week.
So what does all of this mean? It means that we will not be commenting on EVERY blog every week. We will mix it up and comment on some but focus the majority of our efforts in supporting your blogs through social media so that you get the most attention. Sound good!? It just makes more sense to us, and we hope that you agree!
Oh…we also would love it if you used the
#TTTParty
when you tweet any bloggers posts to help everyone see what is going on with the party and get more connected as a group!!
[Tweet "Join the fun and link up at Totally Terrific Tuesday Link Party with me! #TTTParty"]
Now, let's get on to this weeks party!
Here is what your hosts have been up to this week!
Facebook // Pinterest // Google+ // BlogLovin' // HomeTalk // Twitter // Instagram
_________________________
DIY Welcome Garland // Pina Colada Donut Holes // Flaxseed Cheese Crackers // Organizing a Small Pantry
Facebook // Pinterest // Twitter // Google+ // Instagram
________________________
Easter Biscoff Bark // Quick Bunny Crochet // Golden Egg Wreath // The Guys Behind the Blog
Facebook // Twitter // Google+ // Bloglovin' // Pinterest
Blogging is a hot topic these days at #TTTParty. I love this down to earth post! You should stop by Tameka's blog
Pastries Pumps and Pi
and check it out for yourself!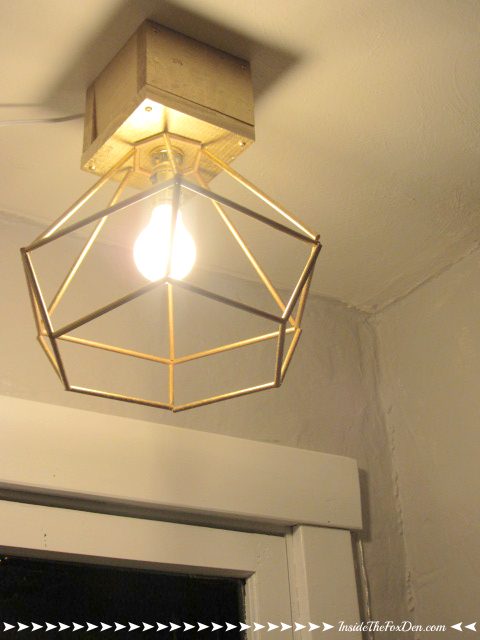 When I saw this Geometric Pendant Light from Inside the Fox Den, I was immediately intrigued. Visiting her site left me amazed, because you will not believe what Chelc used to make this awesome light fixture! Be sure to head over and find out exactly what she used to make this one of a kind pendant light!

We love furniture refurbs and the color of this dresser is simply amazing! The more I see milk paint on furniture pieces the more I know I need to get some and test it out! Stop by Draven's blog Draven Made and let her know you love it too!

I still can't believe Easter is a week away, but seeing this makes me all the more excited for it to get here quicker! This is the perfect snack for the kiddos and the fact that they could help make them would be such a great memory to be had. I'm thinking…new family tradition?! Paint some eggs and build some peep houses! YES Please! Make sure you stop by Joy's blog at Yesterfood and tell her how amazingly cute these are!
Congrats Ladies!! Don't forget to grab your button and show off your featured post!

Party Rules
NOTICE: Please try not to link the same content two weeks in a row. If you didn't do anything new last week, try linking up some older content. This helps you in the long run..if you linked up the same thing 2-3 weeks in a row people wont click on it a second time, so increase your chances of being picked for most clicked by linking up new content every week 🙂
1. Only Link up personal content.
2. "No rule" rule! Feel free to link up anything you have done during the week or amazing content that you want to share. Party runs Monday night-Saturday so feel free to stop back during the week to see who else linked up 🙂
3. Please check out at least 2 other links while you are here. Finding a new blog to follow or an awesome post that will knock your socks off is how we have the most fun during the party! Remember to click to the original post before you pin and leave some comment luv while you are there!!
4. Please follow your hosts! We do our best to follow back and give you our full support. We also love to pin and share awesome content so while you are here, if you see something you like please feel free to pin and share too 🙂 We are all about bloggers helping bloggers!!
5. By linking up you give these three bloggers the right to share your content via our SM networks and feature your posts on our blog. Also, we are going to be sending party reminders via emails connected to the party. Don't worry that is all your emails will be used for, one reminder email a week 🙂
Grab our button for your blog and help support the party 🙂
Follow our Pinterest Party board to always have access to great featured content!
Follow Jessica Bures @ Live Randomly Simple's board Totally Terrific Tuesday's Featured Blogs on Pinterest.
***Find out where we party!***
Jessica's List // Sharons List // Christies List
Continue the party on Facebook. Come join us at Pinterest Promotion for Awesome Bloggers where we pin and share posts and our blogs on social media every day!