---
One visit to Cheesecake Factory, Panera Bread or even Wendy's and you will want a BBQ Chicken Salad. With the delicious flavors of rotisserie chicken, avocado, black beans and a BBQ/ranch flavored dressing, what's not to love? Truthfully, sometimes the price. Don't spend $15 for lunch when you can make your own salad at home for a fraction of the cost. You won't lose one bit of flavor, either. If you want an affordable, easy to make healthy meal then this BBQ Chicken Salad recipe is your answer. Check out the simple recipe below and see if you become a big fan, too.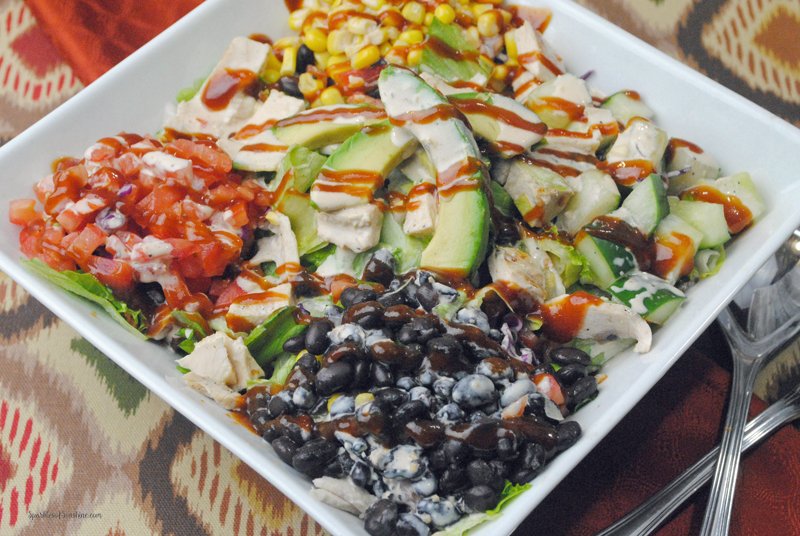 BBQ Chicken Salad Ingredients:
2 hearts of Romaine lettuce, chopped
1 rotissere chicken, skinned and cubed
1 cucumber cut in quarters
1 basket of baby tomatoes cut in half
1 can of corn, drained
1 can of black beans, drained and rinsed
1 bunch of green onions, chopped
1 avocado, peeled and sliced
1 bottle of Hidden Valley Ranch dressing
1 bottle of Kraft Original BBQ sauce ( use 1+ TBSP for the dressing)
Recipe Directions:
Toss the chopped romaine into a large bowl.
Add the cubed chicken, reserving some to place on top of the salad later.
Position the lettuce/ chicken in the middle of the serving plate.
Add the corn, black beans, cut baby tomatoes and quartered cucumber to the plate, placing one in each of the four corners.
Add the remaining chicken on the top of the lettuce and top with the chopped green onions.
Pour the bottle of ranch dressing into a bowl. Add 1 TBSP of the BBQ sauce and stir until well blended. Taste to ensure flavor. If necessary add more BBQ sauce to the dressing until your desired taste is achieved and stir well.
Position the sliced avocado on top of the salad.
Add the salad dressing to the salad then drizzle with the remaining BBQ sauce.
Enjoy!
Other posts you may enjoy: