---
It's time for another Frugal Gift Friday project! Who wants to learn how to make another thrifty holiday gift for friends and family this year? Today I'm sharing how to make a very useful gift for anyone who uses a computer. You won't believe how easy it is to make this easy sew wrist support!
I've spent way too many hours working on a computer in my life. I'm doing it right now, actually. Years ago I started having pain in my wrist periodically due to its repeated use on the keyboard and mouse. I made a trip to the local office store and purchased a handy wrist support. It was a lifesaver, friends! It completely eliminated the pain in my wrist and I've used one ever since.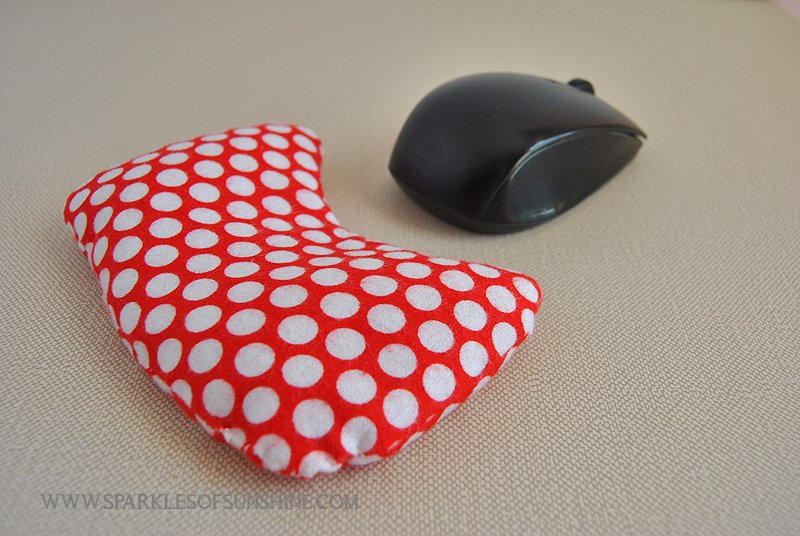 My editor, otherwise known as my husband, was sitting at my desk recently proofreading a post for me when he commented on my handy wrist support. He mentioned that he could use one because he often experienced pain in his wrist while working on his computer at work. I made a mental note and decided to buy him one. But the day I sat down to order one a light bulb came on in my head….I could make him one so much cheaper. Not to mention that..ahem…it would be made with love. Hence this project came to be, and I'm sharing the simple directions with you today so you can make one, too. It would make a perfect gift for anyone who uses a computer, or maybe you'll just make one for yourself?
Here is what you will need for this project:
Small piece of soft fabric
Bag of rice
Sewing machine
Coordinating thread
Sewing needle
Use the pattern to cut out two pieces of fabric. With right sides facing in, pin the fabric into place and stitch around the edges, leaving an inch opening. Turn the fabric right side out.
Use a funnel to fill the wrist support with rice. Fill it until it's about 3/4 full. You want it full enough to offer the support you need, but you also want the rice to be able to move around and conform to the shape of your wrist for a comfortable fit. Stitch up the opening with needle and thread. That's all, folks!
The shape of this wrist support cradles your wrist perfectly, providing support and allowing your wrist to relax while you're working. Be sure to use a soft, comfortable fabric for this project. I used scraps of a soft flannel and velour material for these wrist supports, which makes them super comfy to the wrist.
Wasn't that an easy project? Best of all, you can use scraps of fabric you have on hand and rice from your pantry. Pair it with a pack of sticky notes or mouse-pad and you have the perfect gift for your coworker, nephew or friend this year. Don't miss the rest of Frugal Gift Friday posts! Come back every Friday between now and Christmas for a thrifty, easy DIY gift idea. Until then, you can check out my past posts: