---
On a trip to IKEA last year, I snatched up a spare cabinet door in the clearance section. I always seem to leave that store with a few scrap pieces in my cart. I can't help it! At $2 it's a bargain, and I love using scrap pieces of cabinets, shelves, entertainment centers, etc. to create some unique artwork for my home. Today I'm going to share with you how I made this awesome Repurposed Valentine Marquee Sign for, you guessed it…Valentine's Day!
The cabinet door was pretty boring to start with, but I was able to remedy that pretty quickly. I had purchased some globe LED lights on clearance at Target after the holidays with the intention of making a marquee sign, so when inspiration hit I was ready! For this project I used some chalk paint I had on hand, the IKEA cabinet door, the string of globe lights and a 3/4 inch drilling bit.
This project really was pretty simple. I started out by unscrewing the bulbs and placing them on the cabinet door to determine the placement I wanted. Since there was no way to evenly place 25 bulbs, I chose to go with 22 bulbs for my project. I marked where I wanted them on the cabinet door, then headed over to my neighbor's house for assistance. Yes, I decided to complete this project while my husband was away on business, so I was so happy that my wonderful neighbor, Rick was ready to help me! He helped me drill the 22 holes needed for this project. A 3/4 inch drill bit was needed so the base of the bulbs would fit through the wood.
Once the holes were drilled, I used some wood filler to fill in a couple of spots that needed attention before painting the door with the Folk Art Home Decor white chalk paint I had on hand. Every Valentine sign needs a heart, so I drew a heart in the middle and painted it red. Once the sign was dry, it was easy to assemble.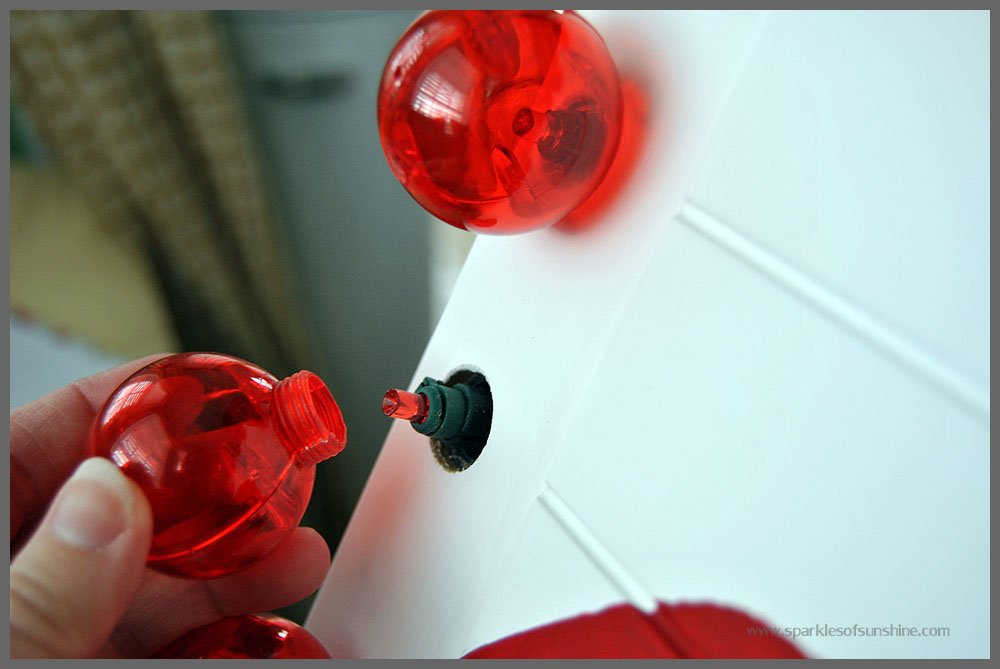 I pushed the base of each light through the hole in the wood, then screwed the bulbs on tight. It was a perfect, snug fit. I then used electrical tape to adhere the light cord to the back of the sign so the cord would remain hidden. That's it!
Check out this beauty all lit up! I think it looks just lovely. I know I made this Repurposed Valentine Marquee Sign for Valentine's Day, but I think it will look perfect in my home office year round. What do you think?
Thanks for stopping by today to check out my latest project for Valentine's Day! I hope it has inspired you to find something around you home to repurpose into a beautiful piece of art today. If not, just head to the nearest IKEA clearance section. $2 later you'll be well on your way to creating a Repurposed Valentine Marquee Sign of your own!
Shared with: Worthwhile Wednesdays, Show + Tell, Wow Me Wednesday, Whimsy Wednesdays, Wordless Wednesday, Whatever Goes Wednesday, Pin Worthy Wednesday, Thrifty Thursday, Thursday Favorite Things Blog Hop, Your Turn to Shine, On Display Thursday, Think and Make Thursday, Inspire Us Thursday, The Creative Link Party, Home Matters Linky Party, The Pin Junkie Pin Party, Funtastic Friday, Friday Feature, Show Me Saturdays, The Party Bunch Link Party, Link Party Palooza, Bloggers Brags Pinterest Party, Frugal Crafty Home Blog Hop, Merry Monday, Off the Hook Monday Link Party, Made By You Monday, Retro Re-Pin Pinterest Party