---
If you've spent any time looking through the DIY pins on Pinterest, chances are you've run across tutorials detailing how to paint upholstery on furniture using paint and textile medium. I must admit the idea is very tempting, especially to someone like me with no reupholstering skills. So after spending much time reading several tutorials with claims on how easy it is to transform furniture pieces by painting the fabric, I decided it was time to give it a try. And when I stumbled across this beautiful chair at my local Salvation Army Thrift Store for only $5, I knew the time had come.
So, is it really as easy as the tutorials make it sound? Can you really paint fabric on chairs and sofas and change its look with only some paint, textile medium and water? Well, today I'm going to give you my honest opinion based on my experience with this project.
After a trip to Michaels to stock up on Martha Stewart's textile medium, I was ready to mix my paint. I followed the recipe I found online and mixed 1 cup of paint with 1 cup of textile medium and 1 cup of water. After misting the fabric with water, I painted my first coat, making sure to follow the grain of the velvet fabric.
Here is my chair after the 1st coat…
There was a slight change in color after the first coat. Once it was dry, I lightly sanded, misted it with water again, then proceeded with the next coat.
Here's my chair after the 2nd coat…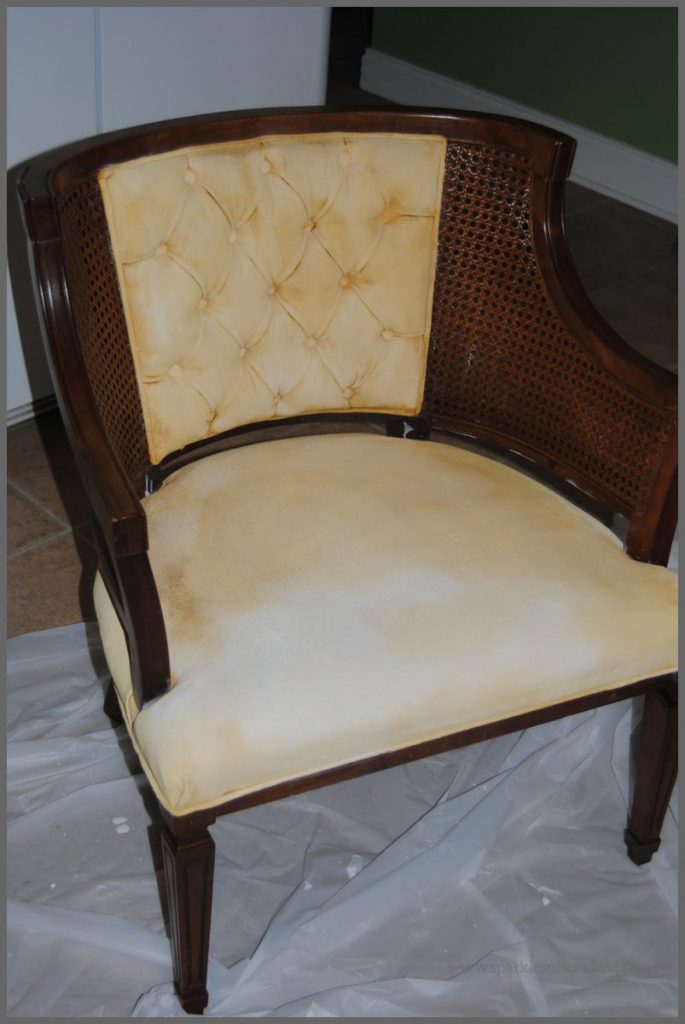 You can definitely see a change in color now, but it was really hard to get an even coat. It was especially hard to paint the hard to reach areas in the tufting. The fabric started to feel slightly rough to the touch, but I decided to keep going. After waiting for it to dry, lightly sanding and misting with water, it was time for the next coat.
Here's my chair after the 3rd coat…
OK, now we're cooking! I finally started to see some coverage, and I was so glad to see the ugly gold color go. But once the coat was dry, I was not happy with the hard texture of the fabric at all. Even after sanding the fabric, it was rough, hard and felt crunchy. Who wants to sit in a crunchy, uncomfortable chair? Since I hate to quit a project, I decided to give it another coat and pray something would change.
Here's my chair after the 4th coat…
I could finally see the light at the end of the tunnel! The chair was noticeably white with just a little yellow color peeking through in places…specifically in the tufted back portion. Once this coat was dry, I couldn't take it anymore. I did some more research, and finally found a website that confirmed what I feared…painted fabric can feel scratchy and stiff to the touch. Who wants a scratchy chair? This is when I finally gave up and called it quits.
Please don't hate me. I really wanted this project to work out! I wanted this to be an easy way to update this chair and give it a new life in my home. If I had to do this all over again and really needed to paint this chair, I would purchase fabric paint from the craft store. Maybe there would have been a better result if I had used paint made for fabric for this project.
So, what did I learn from this project?
It's OK to quit sometimes. When you're working on a project and see that it's not going right, just stop. Don't be stubborn and keep on working. Sometimes it's best to admit defeat, stop what you're doing, and figure out what you need to do to correct the problem. Then start over again. Remember that the easiest way to learn something is by making a mistake. Trust me…I should know!
What works for someone else may not work for you. I'm still not really sure why this project didn't work out for me. I could say it was the velvet fabric, but so many of the tutorials I've read used velvet fabric also. I used the same ratio many others recommended. I'm not sure how so many others had a different result than me when I followed the same procedure. I do understand that others may have had different results and are entitled to their opinions. I'm glad painting their fabric worked out for them…and I'm extremely jealous.
So, painted upholstery…is it meant to be, or not to be? In this case, it was definitely NOT meant to be. But don't worry, because I never let anything go to waste. Stay tuned and come back next week to see what I did with this failed project. I promise you, I totally redeemed myself! In fact, I'm glad this painted upholstery project didn't work out after all. I can't wait to show you what I did with this chair next week!
Shared with: Home Matters Linky Party, Frugal Friday Link Up Party, A Morning Cup of Joe, Our Favorite Things Pinterest Party, Craft Frenzy Friday, Pin Me Linky Party, Frugal Crafty Home Blog Hop, Motivation Monday, Merry Monday, Share It Link Party, Treasure Box Tuesday, Lou Lou Girls Fabulous Party, Do Tell Tuesday, Teach Me Tuesday, Create Link Inspire, Creative Spark Link Party, Worthwhile Wednesdays, Pin Worthy Wednesday, Retro Re-Pin Party, Create & Share DIY and Recipe Party