---
Whether you're thinking about starting a blog or looking to grow your current blog, today you've come to the right place! I have learned so much about blogging since starting Sparkles of Sunshine last year. Some things I've learned by trial and error, and some things I've learned from reading posts similar to this one. That is what's so great about the world of blogging. Unlike the competitive corporate world, I've found that there are so many bloggers out there willing to share their ideas and help each other out. That is the type of blogger I aim to be, so I couldn't help but share with you the tools I've come to count on since starting my blog. This post contains some affiliate links. Click here to read my full disclosure policy.
Today I'm sharing with you the 6 blogging resources you should be using to grow your blog. These tools have taught me how to save time and work more efficiently while increasing traffic, gaining new readers and making money. From starting a blog and learning how to make money with advertisers to managing social media, these tools are useful for both the newbie and seasoned blogger. These 6 blogging resources are also listed on my new Bloggers Resources page, along with some other tools and tips. I will be updating it periodically as I discover new blogging tools, so be sure to check it out and visit it time to time to see what's new. You can click on the images below for more information about these tools, but feel free to contact me if you have any specific questions.
Starting a Blog
If you are thinking of starting a blog, Abby Lawson's eBook, Building a Framework: The Ultimate Blogging Handbook, is a must read! In her book, Abby gives you advice on everything from the technicalities of starting a blog and choosing a blog name to social media tactics.
Hosting
If you are looking for a company to host your blog, I highly recommend Bluehost for your web hosting needs. I have been very happy with them and (knock on wood) have had no problems at all! Bluehost offers hosting for only $3.95 per month when you sign up for 36 months. They offer a money-back guarantee, so you are still free to cancel at any time.
Monetizing Your Blog
Perhaps you've already set up your blog and you're interested in making money with it. If so, Ruth Soukop's How To Blog For Profit: Without Selling Your Soul
is definitely the book for you! Ruth will teach you how to profit through advertising networks, affiliate sales and selling your own products.
Growing Your Blog
If you're ready to take your blog to the next level, I cannot recommend Elite Blog Academy enough! I have seen a tremendous growth in my blog traffic since starting E.B.A., and I'm only on the 4th chapter! Ruth has packed so much information into this course, and I guarantee it is worth every single penny. Learn how to perfect your blog content and images, gain new readers, develop a social media strategy, profit through advertising and so much more in this powerful course!
Social Media
I must admit that when I first started my blog, I did not realize the importance of social media interaction. Readers like to feel connected and engaged, so it's important to establish yourself on social media channels and post daily. This can be difficult since it is so time consuming, so here are a couple of tools I use to help me manage my social media tasks.
BoardBooster has become my new best friend! Before I found this amazing tool, I was spending hours pinning on Pinterest. Since Pinterest likes for your pins to be spread out throughout the day, I found myself creating secret boards to store pins for pinning later. The only problem I had with this was remembering to go back at later times throughout the day to pin them! I don't have time for that, but luckily for me, BoardBooster does. I can schedule boards to continually loop, or BoardBooster will pin for me from my secret boards. It's easily customized and you can even create campaigns for different boards and seasons. At only $5 month for 500 pins, it is one of my best monthly investments! Start out with a free trial and schedule 100 pins for free!

Coschedule is another lifesaver for me. CoSchedule is the only social media editorial calendar for WordPress that allows you to schedule your blog and social media on the same drag-and-drop calendar. It saves me so much time with scheduling posts and social media shares! In fact, I fell in love with it immediately and didn't even wait for my 2 week trial to end before signing up. Coschedule is an editorial calendar, but what I love most is the social queue feature. It allows you to schedule your shares to social media channels like Facebook and Twitter when scheduling your post. Whenever you schedule a post, you can go ahead and schedule your social media shares for the day it posts, a week after is posts, even a month after it posts! Decide to change the day your post is published? No problem, all the social media shares move along with it. Isn't that awesome? Coschedule has helped me be more consistent in my social media scheduling, and I'm so thankful I gave it a try. Start out with your 2 week free trial and I bet you'll be hooked, too!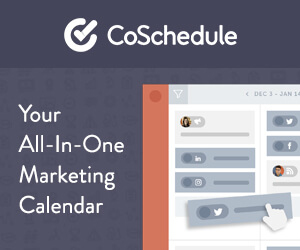 I hope you've enjoyed reading about the 6 blogging resources you should be using. What blogging resources do you currently use? Is there a tool that you feel belongs on my list? If so, please let me know! I love trying out new tools to make blogging easier! If they work for me, I'll be sure to include them on my new Bloggers Resources page.